Many product manufacturers choose to protect critical product surfaces with custom cut surface protection films and tapes, but why invest in materials that may be disposed of before ever reaching the hands of the final customer? While this is sometimes the case, surface protection materials add more value to your products than you may realize.
Considerations for Surface Protection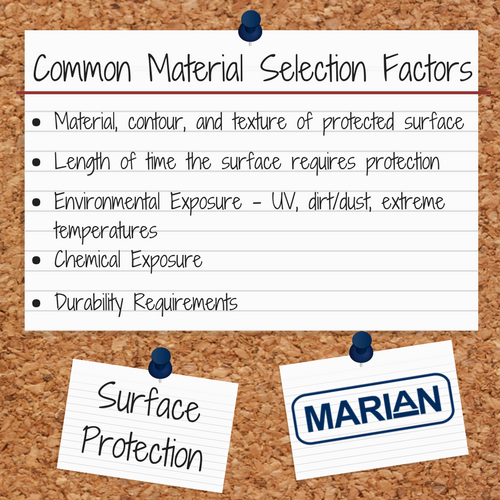 The decision to add surface protection materials, much less die-cut surface protection materials, to a project involves some level of cost-benefit analysis. It's no secret that the addition of these materials increases your total cost, but paying to replace damaged goods is costly both to you and your company. Your reputation with your customers is closely correlated with the quality of your products, so
is the additional cost of die-cut surface protection materials worth it?
We say yes, and here's why.
Investing in surface protection films and tapes provides protection to critical surfaces from scratches, marring, abrasions, dirt & contamination often seen during production, shipping, storage and installation. These films and tapes are easily applied and removed without leaving behind a residue and can be applied to a number of surfaces including, glass, painted metal, stainless steels, and more.
Additionally, surface protection materials offer light weight protection without taking up additional space that is valuable in the transport process. Critical surfaces remain protected from production through the shipping process and, finally, into the hands of the customer.
Add Value to Your Products With Surface Protection
With advanced rotary die cutting, parts produced are supplied on rolls, kiss-cut to a liner with assembly aids for easy handling and application. Marian specializes in making parts specific to your requirements and applications using automated assembly and pick-and-place machines.
Read this case study
in which Marian provided a die-cut surface protection film solution for a plastic injection molder who was having difficulty sourcing a material that would adhere to the plastic material of their product. To learn more about Marian's surface protection materials and processes, click the button below.
---
Do you like what you see and want to learn more? If you're interested in learning more about Marian and our wide variety of value-adding die cutting capabilities, give us a call at (800) 733-0062 or fill out our Contact Us Form and one of our material specialists will reach out to you. We'd love to be the solution to your next problem!
---