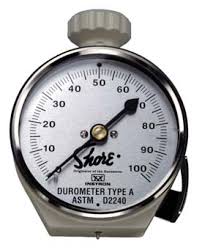 The Shore durometer (pictured right) is a scale for measuring the hardness of a material, such as rubber, plastic, thermal
plastics (TPE), and rigid plastics.

The term "durometer" is often used to describe a material's rating on the scale

, for example "this material has a durometer of 60."
It's worth noting, there are a variety of durometer scales since elastomeric and plastic resins vary over a wider range than one scale can accommodate. Download our comparison chart to see how these scales overlap.

Durometer hardness is one of many physical properties considered when selecting a material for a specific application.
Beware of some common misconceptions. Durometer hardness is often inaccurately confused with the properties described below.