What is 3M™ FRB?
It is thin flexible insulation made primarily of inorganic materials that is easily converted. The 3M™ FRB barrier material provides very high flammability and ignitability resistance, excellent arc and track resistance, good dielectric strength, and good thermal performance to safely contain electrical hazards.
This innovative material has been used successfully in LED Luminaire Designs (Read this CASE STUDY)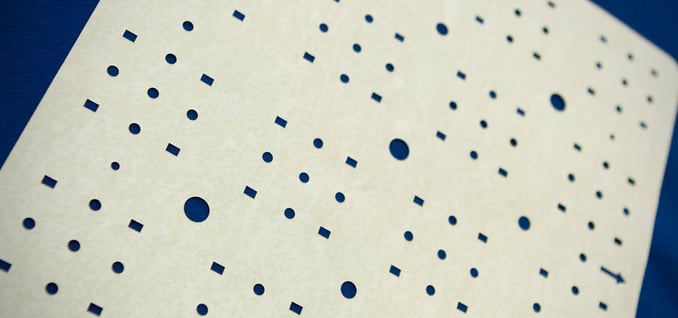 Key Advantages of 3M™ Flame Barrier FRB
Thin & Light Weight - (<0.245mm) This allows for low profile, aesthetically pleasing luminaire designs. This material is thinner and lighter than the traditional material used in lighting designs, like glass plating or flame-retardant plastic lenses.
Meets UL 94 5VA Flammability Requirements - Enables LED design to meet UL 8750 safety standard requirements
Beige, White, & Black Color Options - The white material exhibits reflectivity of >90%. The black material minimizes light pollution. The beige/white marbled is standard.
Easy to Die-cut and Laminate - This material offers high dimensional stability. It can be die-cut into a variety of diode patterns. The material surface is very smooth, which allows for improved tape adhesion.
Excellent Insulating Properties - Good dielectric strength, excellent arc, and track resistance
Resistance Properties - Protects the lighting system from shorts and subsequent product failures
---
Marian Die-cut Insulators with 3M™ FRB
Marian excels at providing intricate die-cut solutions, often seen with the layout of diodes within an LED Light luminaire. Marian's capabilities include precision die-cutting, PSA lamination, and layering with other materials. Die-cut 3M FRB components can be packaged individually or onto rolls to meet the needs of the final luminaire assembly.
Contact us for a sample, a quote, or additional information.