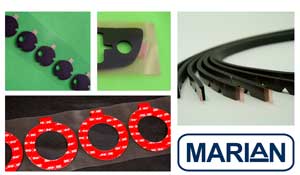 Pull-tabs, extended liners and split liners are assembly aids. They make the process of removing the liner from a die-cut adhesive part much easier. When you work with Marian, we keep your manufacturing and assembly process in mind as we develop the solution. Our goal is to make things easier for you, saving you labor and time spent during assembly, placement, or manufacture. Once we understand how our part will be assembled into your product, we can often offer a variety of solutions. These solutions can include (but are not limited to):
Part orientation / spacing on the liner
Final packaging:

Kiss-cut to a liner and wound onto a roll
Singulated parts
Kiss-cut to sheets
Perforated liner

Modifications to the carrier liner for fixturing
Pull-tabs, extended liners, split liners
In this blog post, we are going to focus on pull-tabs, extended liners, and split liners.