At Marian, we've developed and mastered numerous die cutting methods for manufacturing custom gaskets, seals, filters, vents, shields, thermal pads, etc. for our customers.
With a 25,000 square foot machine shop at our headquarters in Indianapolis and a full staff of machinists and electrical engineers at each of our locations around the globe, we are equipped to manufacture the highest-quality die-cut components using innovative, thin, flexible materials. Take a look at some of the die cutting processes we use to manufacture custom components and the application questions we ask our customers to help choose the best manufacturing process for their parts.
Marian Die Cutting Processes
Rotary die cutting:

Hardened steel rotary dies made by metal machining
Etched dies made by chemical etching

Flatbed / Punch press die cutting:


Steel rule (wood) dies
Matched metal dies

Plotter-CAD cutting
Laser-CAD cutting
Water jet-CAD cutting
Check out our blog post "Die Cutting 101" to get a better understanding of a few of the basic die cutting processes.
5 Questions We Ask our Customers
A given part may be able to be produced by all the above methods, so how do we choose one method over another? We start by asking questions like the following:
1. Is part design complete or in process?
If your project is still in development, hard tooling may not be necessary. By using any of the CAD cutting methods (plotter, laser, or water jet), we can avoid tooling costs, and making changes to the part is simple and painless.
2. What materials are required?
The nature of the materials and their available formats in bulk may lend themselves to one process over the others. For example, rotary die cutting is much more efficient when the material is delivered to the die from rolls rather than sheets.
On the other hand, some materials resist rotary die cutting because of thickness or density. Other materials resist cutting by laser due to the material's properties or characteristics. Some materials absorb moisture and would be poor choices for water jet cutting.
3. What are the part's geometry, layers, and critical characteristics?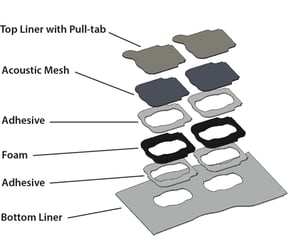 A part with very fine and micro features may be a challenge for a steel rule die. A part with many holes whose slugs must be removed from the part must be addressed in tool design whether rotary or flatbed.
Many parts we manufacture have two or more layers of material (multi-layer). Layers may consist of a foam with a pressure sensitive adhesive (PSA) backing or a plastic film with PSA on both sides. Finished parts could also contain a composite of multiple layers that create a complex stack up, and in some cases, these layers will have different geometries.
Critical dimensions and any tolerances are also considered. Matched metal dies can be much more precise than steel rule dies, for example.
4. What is the expected volume of parts over a given time period?
Each converting process requires time in start-up and set-up, some requiring much more than others. For applications with small quantities, we want to choose a process with as little set-up time as possible. However, each process also has limits in the speed of cutting once set-up is complete. We want to be as efficient as possible to keep production costs down.
5. How will our customer use or apply this part?
We help our customers design for manufacturing. If the part will be applied or assembled by hand, we may suggest a pull-tab to help the customer to remove the liner. If the part will be picked-and-placed by robot, we'll design the tool to orient the part on rolls so the presentation to the customer's machine is accurate and consistent.
While this list provides a good starting point for us, there are a number of other factors we consider to help point us in the direction of a manufacturing process.
Why Marian for your Custom Die Cutting?
Marian offers capabilities and capacity our competitors cannot compete with, and our teams know the questions to ask to ensure the highest quality finished parts specific to your application.
Marian headquarters (Indianapolis, IN) is home to a large machine shop where we build the custom machinery used to manufacture parts for our customers. These machines are only used in and sold to Marian facilities, so we can tackle everything from simple seals and gaskets to intricate multi-layer components.
We leverage our 12 global locations to efficiently deliver materials, prototypes, and especially finished parts to our customers. The same processes and capabilities are available at each location, so we manufacture your parts where it makes the most sense. Contact us with your application needs/questions and we'll put you in touch with a representative in your area.