Are you designing a product or working on an application that requires a double-sided tape or transfer adhesive? There are infinite amounts of tape materials available with different adhesive types, carrier types, and constructions. We understand that it can be overwhelming to look through numerous catalogs of pressure-sensitive adhesive products to determine which one will work best in your application. Therefore, we have come up with a checklist of only 4 questions that will help you narrow down the most important factors in your decision. Some factors to start with when selecting a PSA material include:
Required function of the PSA (ie: bonding, sealing, skin contact)
Substrate surface energy (is the bonding surface high surface energy, low surface energy?)
What type of stress will be exerted on the PSA? (shear stress, pluck stress?)
What other conditions will the PSA be exposed to? (high/low temperatures, solvent & liquid exposure, visual appearance)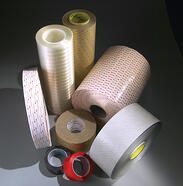 Once you answer the 4 questions outlined in this EBook, you will be able to narrow down your options to a handful of PSA's. After reading this ebook, you should also contact Marian! Marian Sales Engineers have received extensive training on PSA materials from top tape material suppliers, like 3M, tesa, Polymer Science, Avery Dennison, etc. Your Sales Engineer can evaluate your application and design and make suitable material recommendations. Marian can also provide samples of materials for testing and evaluation. Need a prototype? Marian has you covered here too. Provide Marian with a CAD file (.dxf format is best) and prototypes can be produced within 24 to 48 hours using stock materials.
Simplify material selection with Marian! Contact us today!
Free EBOOK: 4 Questions to Ask When Selecting a PSA