Silicone rubber materials and some plastic films have chemically inert and non-porous surfaces, which equates to low surface energy. This means they have a weak molecular bonding force making it difficult to create a bond with many pressure sensitive adhesives.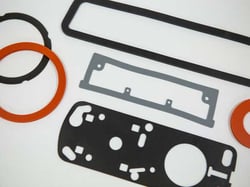 At Marian, we help many customers by creating die-cut gaskets using silicone elastomers. Silicone is one of the best gasket materials for numerous reasons: they operate in the largest temperature range of any elastomer (-100°F to 500°F). Silicone is highly resistant to UV, it is odorless, stain resistant, and hypoallergenic. Lastly, it outlasts any other material when it comes to compression set, making it an excellent choice for a long-lasting sealing gasket. Many gaskets like this require a PSA backing in order to remain in place within the application. One downside of silicone is that, as stated above, it has low surface energy and does not readily adhere to standard acrylic PSAs. This is where corona treatment comes in.
Want to learn more about Silicone? Check out our blog post "Silicone Rubber, a Low Surface Energy Material" where you can download our Free EBook, "Pros and Cons of Designing with Silicone Rubber".
What is Corona Treatment?
Corona treatment is a method of surface treatment that increases the surface energy of the treated material by means of "corona discharge plasma". In simple terms it enhances the surface's molecular structure to allow improved wettability for the adhesion of inks, coatings and adhesives. And it does this without changes to any other of the physical properties of the material.
The rendering below demonstrates how the surface energy changes after a substrate is corona treated. The surface energy or wettability of the untreated substrate is very low, which is demonstrated by the >90° contact angle. The contact angle of the corona treated surface is <90°, giving it a high surface energy / wettability.

---
Video Demonstration: Adhesion of Acrylic PSA to Corona Treated and Untreated BISCO HT-870 Soft Silicone Foam
Typically silicone adhesives readily bond to silicone elastomers without treatments other than cleaning. However, depending on the other surface to which the silicone elastomer will be bonded, the silicone adhesives may not be able to achieve the strength-of-bond your application requires. Additionally, silicone adhesives can be 3 to 5 times more expensive that common acrylic PSA. By corona treating we are able to offer many more options for Bonding PSAs and reduce the cost.
In the video demonstration below, we show how 2 different Acrylic PSA's (tesa 4965 and 3M 9832) bond (or do not bond) to untreated BISCO HT-870 Silicone Foam compared to corona treated BISCO HT-870 Silicone Foam.
---
Contact Us
Have a project that might require a corona treated material? Give us a call, or send us a note. One of our sales engineers will respond quickly!