Marian is offering TWO new

3M

acrylic foam tape series: EX4500 and PX5000
3M recently launched two high-performance acrylic foam tape lines for the automotive market. 3M Tape primers are applied to the bonding surface prior to the application of the tape. Primers are often made of chemicals like isopropyl alcohol. They promote and increase adhesion. While the use of primers can be beneficial, they can also be an irritant to exposed employees and harmful to the environment. The application of primers also adds more labor and time to the tape application process. For this reason, 3M has developed two new acrylic foam tapes, EX4500 and PX5000. Marian, a 3M automotive preferred converter, is now offering these materials.
Features & Benefits
P

rimerless adhesion capabilities
Excellent high-temperature adhesion power to...

LSE and MSE plastics

Medium to difficult automotive clear coat systems

Cost savings in supplies, labor, and time
Employees and the environment are not exposed to harsh chemicals often found in primers
Unique foam core provides stress relaxation when high application loads are encountered while maintaining tight bond-line aesthetics under normal conditions
The high-performance adhesive on both sides of the tape offers process flexibility in die-cutting operations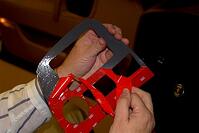 Uses/ Applications:
Attachment of exterior trim parts to the automobile: body side moldings, cladding, emblems, nested components, bumper sensors, garnishes, window visors, and chrome appliques.
Marian Inc is a 3M Automotive Preferred Converter
We have extensive experience die-cutting 3M foam tapes for automotive applications. We are very excited to offer primerless solutions with the potential to enhance your production process and offer cost savings.
Please contact us for a sample or a quote of 3M EX4500 or PX5000.
Downloads