3M™ FRB contains unique properties and has the ability to enhance your applications.
The 3M™ Flame Barrier FRB Series is thin, flexible insulation made primarily of inorganic materials. The FRB barrier provides very high flammability and ignitability resistance, excellent arc and track resistance, good dielectric strength, and good thermal performance to safely contain electrical hazards. When compared to other material options, FRB saves cost and weight in end-use applications.
The material is easily converted: slit, die-cut, and/or laminated to fit the requirements of your specific design.
Key Material Characteristics
UL 94 5VA flame rating
Excellent ignitability resistance
Excellent arc and track resistance
Good dielectric strength
Dimensionally stable
Thermal index of 130°C
Very lightweight and ultra-thin, saving cost and weight in final application
Available in white and black for optimal optical and aesthetic results
Smooth surface for improved tape adhesion



Applications

General purpose lighting luminaires (including LEDs)
Electric and hybrid vehicles (between batteries, power converters, etc.)
Appliances (vacuum cleaners, slow cookers, etc.)
How does FRB compare to competitive materials?
Mica-based materials

: A limited number of mica-based materials meet UL95 5VA flame ratings. Such mica-based materials do not convert well. Mica shards easily break off during the cutting process

Glass plate

: Bulky, heavier, and more expensive

Flame retardant plastic lens

: Bulky, heavier, and more expensive
---
DOWNLOAD - Material Spotlight: 3M FRB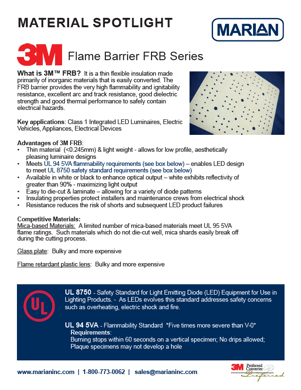 ---
Marian and 3M
Marian and 3M have a long partnership. Marian is proud to be a 3M Preferred Converter. This means that we have been selected by 3M as one of their top converter partners. This status is earned over time by establishing a strong relationship with 3M, demonstrating expertise in both 3M products and converting processes, and by successfully manufacturing solutions for customers using their innovative materials.
Contact us today for a sample.
Visit the 3M Site to learn more about this material. Download the datasheet on our datasheets page.