Thermal Runaway Propagation Prevention with Thermal Barrier Materials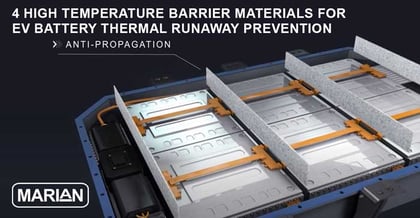 Hybrid and battery electric vehicles that use lithium-ion cells require that these cells are maintained at specific ambient temperatures. "Thermal runaway" occurs as a result of the rapid rise in temperature within one of the battery cells. One of the greatest challenges for battery design engineers is to manage heat. For this reason, batteries are designed with thermal management systems that provide different levels of protection, including cell-to-cell, module-to-module, and pack level.
Marian provides custom flexible die cut solutions that are incorporated into battery design at the cell, module and pack level to aid with thermal management. These die-cut parts are made with high temperature resistant materials (also known as flame barrier materials) that are designed to offer thermal insulation to delay the onset of thermal runaway.
High Performance Thermal Barrier Materials
In this blog post, we take a look at 4 thermal barrier materials designed for use in HEV / EV Battery to aid with thermal runaway prevention. Key features for these materials are:
extremely high temperature resistance
thin profiles
lightweight
flexibility and conformability
1. Saint Gobain Norseal FS1000 Intumescent Foam
This is a proprietary, high-performance foam designed with a unique combination of sealing properties. FS1000 is expandable and fire resistant, blocking smoke, air and water. In its natural state, FS1000 is soft, conformable, and easy to attach to complex surfaces.
When heated to more than 200 degrees Celsius, FS1000 will expand and form a fire resistant char, blocking fire, smoke and hot gases. The material does not contain any halogens and there are not concerns of toxic gas emissions when heated. Available in different thicknesses and can be offered with adhesive on one side for easy installation.
Download the data sheet and watch the product video below.
---
2. Unifrax FyreWrap IN70 Paper
Unifrax IN70 Paper is part of a family of high-temperature, lightweight, insulating materials designed to prevent thermal runaway propagation in lithium ion batteries.
Fire resistant, flame barrier
Electrically insulating
Suitable for temperatures up to 1600 degrees Celsius
Download Unifrax FyreWrap LiB Papers Product Sheet by clicking on the image below.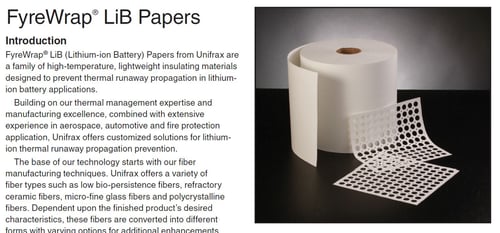 ---
3. Morgan EST Compression Paper Family
The EST Compression Paper material family has developed to accommodate the cyclical expansion pouch cells experience during normal operation. This material is designed to go between pouch cells to delay propagation in case of a thermal event.
Designed for li-ion pouch cell-cell protection
Download EST Compression Paper Product Data Sheet by clicking on the image below.

---
4. Rogers Procell EV Firewall 800, 801
Thin, flexible aluminum foil backed glass cloth composites. They provide temperature protection without adding rigidity or bulk to the battery cell and can be used as a stand-alone solution or laminated to other compressible materials.
ProCell EV Firewall 800 has a silicone adhesive supplied on a clear, easy-to-remove liner.

ProCell EV Firewall 801 has an acrylic adhesive supplied on a blue poly liner.
Download the data sheets and watch the product video below.
---
Partner with Marian
Include your Marian Representative early in your battery design. We can help in obtaining material data and samples for testing. Additionally, we can create prototypes and design for manufacturing studies. Our Global Business Development Manager, Jim Taylor, is very knowledgeable in applications within the battery market. Use the link below to contact Jim to start discussing your design.