In this newly released application story, a global designer and manufacturer of critical intercommunication devices experienced a gasket failure allowing moisture to leak and compromise the internal components of their console.
A Marian sales engineer was brought in to recommend a solution. The Marian team used their extensive material knowledge and experience to recommend a gasket comprised of three layers: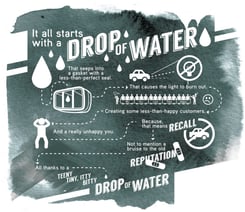 1. The central core of the gasket is Rogers PORON® AquaPro™ Urethane Foam. This cellular gasket material offers enhanced water sealing and long term performance, out-performing other material options initially and over a long service life.
2. The foam is laminated to an Autotex antimicrobial textured hard coated polyester film. When bacteria come into contact with this film the antimicrobial agent disrupts the bacterial cell wall, killing or inhibiting bacterial growth.
3. The assembly is laminated to 3M 9832 double coated tape. This 3M acrylic adhesive provides dependable adhesion to a variety of substrates including the foam of the gasket and molded plastic housing of the intercom unit.
Marian's team quickly provided material samples and rapidly (next day!) created laser cut prototypes for evaluation and testing. Not only did the new gasket assembly meet the customer's leak tests, it also gave the customer renewed confidence in the reliability of their system.