The majority of the die-cut parts manufactured by Marian include a Pressure Sensitive Adhesive Tape (PSA). PSA tape is thin flexible material coated with a thin layer of adhesive, making one or both sides sticky. By producing billions of adhesive-backed parts each year, it's safe to say Marian has a lot of experience with this sticky stuff!
PSA tapes can come in various constructions, which offer different functionalities based on your application. There are double-coated tapes, single-coated tapes, and adhesive transfer tapes. Check out our blog post, Pressure Sensitive Adhesive Tape Constructions, to learn more about different tape constructions.
The first step is choosing the best PSA type and construction for your application (by the way, we can help with this! Download our ebook: 4 Questions to Ask Yourself when Selecting a PSA). An equally important step when utilizing a PSA in the assembly of your product, is the proper storage and proper application of the PSA. Missteps when storing and applying your PSA can lead to product failure.
APPLYING THE PSA TAPE
As stated above, PSAs are sticky. When applied to a surface with pressure, they will bond to that surface as intended. However, there can be circumstances that could prevent a highly secure bond. We have outlined some steps that you can take to ensure the PSA application is successful.
Clean the Surface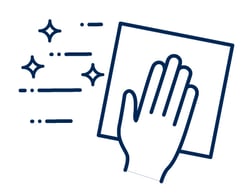 When preparing to apply a PSA, the bonding surface should be clean, dry, and free of lint, grease and oil contaminants. Surfaces that have been exposed to the elements prior to use, should be wiped down with an evaporative solvent such as MEK (methyl ethyl ketone).
After the surface has been cleaned and dried, you can follow by wiping the area again with isopropyl alcohol. Other cleaning products that can be used include esters (ethyl acetate or acetone) and naptha-based products.
It may be necessary to improve the surface energy by using primers, flame treatment or corona treatment. (Read our blog post about Surface Energy.)
Appling Pressure
Once the surface is prepared, it is time to apply the PSA. Generally PSA's require a minimum of 15 PSI to secure most bonds. Pressure can be applied by hand, squeegee, roll/nip laminator, etc. The minimum application temperature is 50°F and the adhesive will continue to wet-out, or build in adhesion for 72 hours, especially acrylic and silicone pressure sensitive adhesive systems. Heat lamination improves surface contact area and decreases wet-out time.
---
STORING THE PSA TAPE
Marian takes precautions to package our customers' PSA-backed parts to protect them from deformity or contamination during transit and storage. If you will not use the parts shortly after receipt, we recommend that you store them in original packaging, indoors at a temperature of approximately 70 °F and 50% or lower humidity.
Storage Recommendations
68-72 °F
50% relative humidity
Stored in original packaging, away from direct sources of UV, such as lights and sunlight
---
PRINT THIS GUIDE FOR EASY ACCESS TO THESE BEST PRACTICES
---
Review these guidelines with your Marian Sales Engineer and Material Supplier. Some of these recommendations will vary based on the specific PSA being chosen
QUESTIONS? Contact Us!