Changes in altitude, humidity, temperature, and atmospheric pressure can cause the internal pressure of a sealed enclosure to increase or decrease significantly. Engineers integrate vents into the design of their enclosures to equalize the pressure and prevent problems such as condensation (and shorting of electronics), fogging, discoloration, leaks (failure of the seal), and other failures. Learn how to keep these issues from arising with the help of protective vents.


The Effects of Pressure Equalization on Material Selection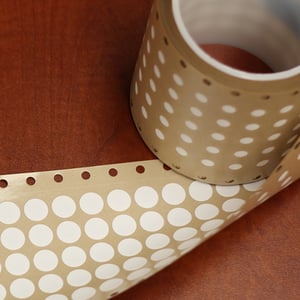 According to the W.L Gore & Associates, Inc., protective vents are meant to, "constantly equalize the difference in pressure between the inside of the enclosure and its immediate environment, thus reducing the pressure on the seals at the same time." It is the engineer's challenge to select a venting material that allows sufficient airflow without allowing the accumulation of moisture or unwanted gases. The selection of the venting material plus the size and location of the vents themselves can make the difference between winning and losing the pressure equalization battle.
Venting materials vary in base polymer, pore size (measured in microns) and construction. PTFE is the most common base polymer used for vents in architectural lighting, automotive lighting, energy storage, sensors, security systems, medical devices and many other types of electronics.


Considerations for Choosing Protective Vent Material
Some PTFE membrane manufacturers, like W.L. Gore, use expanded PTFE while others, like the Porex Filtration Group, put PTFE through a highly specialized sintering and forming process. Although both these material types are naturally Hydrophobic and can have varying levels of Oleophobicity, they are not equivalent choices. They can vary significantly in surface energy, pore size, physical construction and all of the associated parameters such as water entry pressure, air-flow, IP Ratings and temperature resistance. So, depending on the type of material chosen, the size, location and number of vents required to achieve the appropriate air flow can be different.
Commonly a vent manufactured with the Porex Sintered PTFE can have a smaller diameter in comparison to an Expanded PTFE vent due to the higher Airflow while still maintaining its expected Oleophobicity. It's quite possible that the higher airflow of the Porex material could result in fewer vents needed to properly vent the enclosure.
By means of Water Entry Pressure (WEP) tests -- usually measured in Bar or Pascals (Pa) -- the engineer can be confident his design could achieve the most demanding IP-Rating, IP-65.


The Marian Advantage
Marian's sales engineers understand the materials available and work closely with our supplier partners to recommend the best, most efficient, and cost effective solutions for your design. With our wide range of converting capabilities, we are not only able to supply complex or simple layered designs, we are also able to supply them in a lay-out or package that will aid in your product assembly. We can even quickly produce prototypes for your evaluation (next day in many cases- test us!).
Click the button below to contact Marian and see how we can help you with your next venting solution.


---
Do you like what you see and want to learn more? If you're interested in learning more about Marian and our wide variety of value-adding die cutting capabilities, give us a call at (800) 733-0062 or fill out our Contact Us Form and one of our material specialists will reach out to you. We'd love to be the solution to your next problem!
---