Ingress Protection (IP) Rating is a common international test method (IEC 60529) to rate enclosure protection from objects and liquids.
Why is an IP Rating important?
UL, CSA and CE Mark Standards often require certified products to hold a specific IP rating. Some examples of such products include IT equipment, laboratory equipment, electronic measurement equipment, plus anything claiming to be "dust tight" or "water-resistant", etc. These terms indicate that a device is able to operate successfully in harsh environments with potentially wet and dusty conditions. The IP rating scale provides a range of two numbers that indicate the level of protection provided.
The IP Rating looks like this: IPXX
1. The first number indicates protection from solid objects or materials
2. The second number indicates protection from liquids
For example, an enclosure that is rated IP54 is dust-protected. It will allow limited ingress of dust with the operation of the equipment for two to eight hours. The enclosure is also protected against water splashed from all directions, limited water ingress permitted.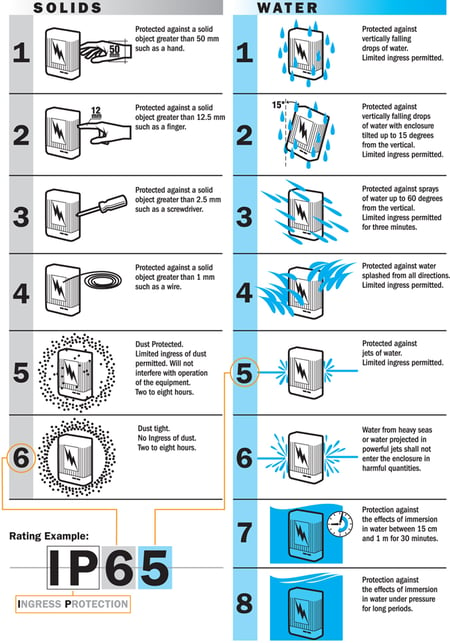 CUSTOM IP RATED GASKETS & SEALS
Marian produces many custom gaskets and seals for products and enclosures that are required to meet a specific IP Rating.
We source thousands of materials that meet IP ratings including foams, foam tapes, pressure sensitive adhesives, and venting materials. Our material experts have experience choosing appropriate materials to meet IP rating standards.
Check out this success story where Marian provided a die cut PTFE vent for an IP67 rated enclosure. The vent allowed air to enter and exit the enclosure, without allowing water or dust. The enclosure even had to withstand regular washing in a variety of environments and temperatures.
Success Story: IP Rated Venting Solution for "Smart" Shipping Pallet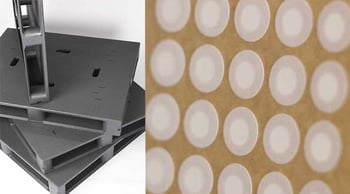 ---
Download IP and NEMA Ratings Charts

Contact us to speak with a Material Expert to discuss your project.