What is Closed Cell EPDM Sponge?
Closed Cell EPDM Sponge is the third material we will explore in our blog series: Foams for Low Clamping Force Seals. EPDM stands for Ethylene Propylene Diene Monomer. "Closed Cell" describes the material at a microscopic level. The material is made with tiny bubbles that are inflated with gas, resulting in a closed cell structure that will not allowing moisture to pass through. This is what makes this material excellent for sealing and gasketing. EPDM is commonly used in the automotive and construction industries for various seals and gaskets due to its excellent environmental factors such as UV, Ozone and weathering. When comparing EPDM to Silicone, EPDM falls short when it comes to temperature resistance.
Features and Benefits of Closed Cell EPDM Sponge
Non-crystalline material. Contains no plasticizers that can migrate and lead to premature membrane failure.
Can be formulated in a variety of combinations with other polymer modifiers.
Performs well in the -40°F to 175°F temperature range.
Excellent moisture resistance, does not absorb fluids easily
Used in many applications that require water, UV, ozone, or indirect sunlight resistance (superior to neoprene in this regard)
Does not meet UL flame rating without additives and will not withstand oil and fuels.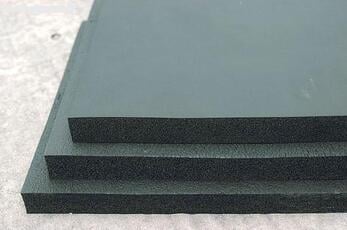 Marian is happy to help you narrow down your options in this category. Click here to view material data sheets of commonly converted closed cell EPDM Sponge. Additionally, Marian has a wide range of capabilities to manufacture custom gaskets, seals, and components using closed cell EPDM sponge, including die-cutting, water jet cutting, plotter cutting, precision slitting and laminating of pressure sensitive adhesives.
Check out our Foams Material page.
Contact us for a sample, prototype or a quote.