As we explore different categories of foams that are used for Low Clamping Force Seals in this blog series, we move to Closed Cell Neoprene and Sponge Blends. As stated in the previous post, closed-cell sponge and foam materials do not allow air and moisture to pass through, making them good materials for general sealing and gasketing applications. Keep reading for additional features and benefits of these materials.
Closed Cell Neoprene Sponge is comprised of 100% neoprene polymer. Neoprene is soft, flexible, and durable. It resists breakdown by water and air.
Features and Benefits of Closed Cell Neoprene Sponge
Resists light oil contact, ozone, alkalis, and acids.
Generally functional from -40°F to 158°F continuous and can withstand 200°F intermittently.
Most neoprene sponge materials meet the UL-94HF-1 flame rating
Air and watertight, making it a good choice for general enclosure gasket
Many densities and thicknesses are available
Can be laminated with pressure-sensitive adhesive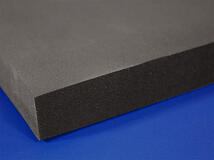 ---
Closed Cell Sponge Blends are produced from a blend of neoprene, EPDM (ethylene propylene diene monomer), and SBR (Styrene-butadiene rubber).
Features and Benefits of Closed Cell Sponge Blends
Functional down to -70°F without cracking due to cold embrittlement
Normally meets UL94HF-1 flammability requirements
Oil resistance is not as good as 100% neoprene sponge products
Good choice for general-purpose sponge gaskets
Many densities and thicknesses are available
Marian has years of experience manufacturing custom gaskets made of closed-cell sponges. We stock many of these materials. We are happy to help you narrow down your options and provide material samples.
Lastly, download our free E-book, Selecting Foam Materials for Static Sealing Gaskets. This free guide explores key physical properties of foam materials when designing a gasket.