The need for EMI gaskets is growing as more high-frequency digital electronics are introduced into our everyday lives. This includes technologies like 5G infrastructure, IOT (internet of things), and rapid advances in automobile technology and connectivity.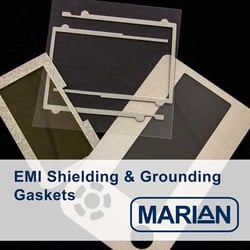 EMI gaskets help protect electronics from electromagnetic interference. They function by establishing a conductive path along seams and other openings in an electronic enclosure. Essentially, gaskets plug all the holes in a piece of equipment so that EMI radiation does not interfere with the operation of the device and helps to keep the device from emitting offending electromagnetic waves.
In this blog post, we list different categories of EMI Shielding materials for your gasket or shield, along with a few specific materials in each category. The category that you choose will depend on the needs of your application and design. Marian sales engineers can help you through the material selection and evaluation process to ensure that you choose the most appropriate material for your design.
Particle-filled Solid Silicones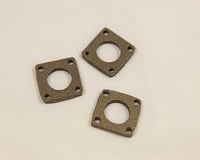 Particle-filled solid silicones are comprised of silicone elastomer with metal particle fillers. This combination provides the conductive properties of the metal with the physical properties of silicone rubber. Particle-filled silicone EMI gaskets are suitable for shielding and grounding applications that require UV resistance, extreme temperature resistance, and mechanical durability. The gasket material pictured to the right is EC-2130.
For example, the EMI gaskets that are used in some ruggedized touchscreens are made of particle-filled silicones that reduce the effect of EMI emissions, provide electrical conductivity, and ensure environmental sealing in conditions ranging from high heat to freezing cold. Some examples are:
---
Electrically Conductive Foams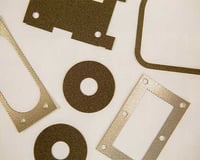 Soft foam materials that are blended or plated with conductive alloys offer an easily compressable and conformable conductive path for devices that have irregular surfaces, low compression force, and require high conductivity. Metalized foam materials often include a layer of a conductive adhesive to create pressure-sensitive conductive tape or can be die-cut into adhesive-backed gaskets and shapes.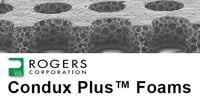 Rogers® PORON Condux Plus® Electrically Conductive Foam - PORON Condux Plus® is a very stable electrically conductive foam that holds its shape and does not collapse during die-cutting. This material is available in thicknesses of 0.3mm and 0.5mm. PORON Condux Plus® DATASHEET
This material offers...
High conductivity across a range of compression
Consistent connectivity for the life of the device
Material integrity, meaning it will not collapse during die-cutting
Effective shielding, protecting devices from a wide range of EM frequencies
Polymer Science P-Shield Conductive Foams
These materials are constructed of copper and nickel-plated Urethane foam on a plated fabric layer in the middle with a conductive adhesive on the bottom. This construction makes for a structurally sound and robust product while still providing excellent conductivity in the x, y, and z axes.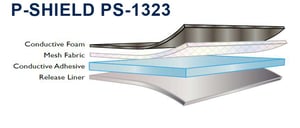 P-SHIELD PS-1206 – A nickel-copper plated, conductive PU foam carrier with a copper-nickel mesh core laminated with conductive acrylic adhesive. DATASHEET
P-SHIELD PS-1323 – Soft conductive nickel-copper plated PU foam carrier with a copper-nickel mesh core laminated with a conductive acrylic adhesive. DATASHEET
---

Fabric-over-foam (FOF) or Foil over Foam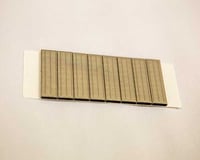 EMI gaskets constructed of fabric-over-foam or foil-over-foam are ideal for applications requiring a wide or thick gap to be sealed with only low compression force available in the design. Fabric-over-foam materials are typically comprised of conductive fabric wrapped completely around a non-conductive foam core. These types of constructions can also include a conductive adhesive on one side.
The material in the picture to the left is Chomerics Soft-shield 3500 with a narrow layer of zoned adhesive.
---
Conductive Adhesive Tapes
Acrylic adhesive PSA is filled with conductive fillers that allow interconnection between substrates through the adhesive thickness (the "Z-axis") and also provides electrical conductivity in the plane of the adhesive ("X-Y Axis"). Conductive Adhesive Transfer Tapes can enhance existing shielding solutions and offer new design options.
3M Electrically Conductive Adhesive Transfer Tape 9707 – a pressure-sensitive adhesive (PSA) transfer tape with isotropic electrical conductivity. DATASHEET
P-SHIELD PS-2310 Electrically Conductive Adhesive Transfer Tape – an electrically conductive acrylic pressure-sensitive adhesive to allow conductivity in the x,y, and z-plane. DATASHEET
---
Custom EMI Gaskets - Request a Sample Bag!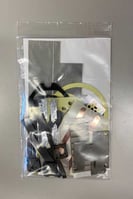 Marian manufactures custom die-cut EMI gaskets, including die-cut parts with multiple layers of thin conductive and conformable materials that meet EMC requirements. Contact us today to request a sample bag of die-cut EMI gasket sample parts.
---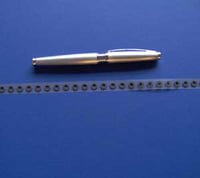 CUSTOMER SUCCESS STORY: ELECTRICAL CONDUCTION AND INSULATION
Marian manufactures an electrically conductive washer that acts as an EMI shielding gasket where the two metal cast halves attach on a standoff of an engine controller. The precisely cut washers are provided affixed to a roll and spaced exactly for automated placement.