Compression Force Deflection
Applications that experience periodic compression cycling over time may require a gasket that is capable of compression rebound. In the event that your application uses a material that does not resist compression force, the material may depreciate over time. When your gasket has dwindled or has deteriorated from all of the periodic compression cycling, your gasket will become ineffective and will need to be replaced. In a perfect world, your gasket should rebound to fill any potential gaps. Using a material with great compression resistance will guarantee a long-term sealing performance that will work just as effectively each time you reseal your application.
There are many potential risks in compromising the type of material used in a gasket that experiences periodic compression cycling. The cost of continuously replacing your gasket could be one of them. Choose a compression resistant material the first time so that you will not have to replace your gasket so often. Another risk you may be confronted with is the cost of damaged components in the enclosure. If the chosen material for your gasket does not resist compression, the depreciated material could allow water to leak through over time.
Force deflection can be affected by the cell structure of a foam or silicone. Open-cell materials resist compression set better than closed- cell materials. Once compressed, the open cells close off, resulting as an effective seal. Generally, they do not rely on the gases inside the material to provide force resistance as do closed-cell materials. Marian suggests using either PORON® Urethane or BISCO® Silicone for compression set resistant applications. PORON® Urethane and BISCO® silicone cells will "close off" at lower levels of compression, are flame resistant, and retain between 45%-75% of their initial force. Other materials retain between 15%-35% of their initial force. Marian die cuts both PORON® Urethane and BISCO® silicone which is sourced from Roger's Corporation.
The following photos were taken by Roger's Corporation using a scanning electron microscope. These before and after photos demonstrate that PORON® (bottom two photos) will only decrease between 3-8% depending on the grade of material while alternative foams (top two photos) decrease by 37%.
Before After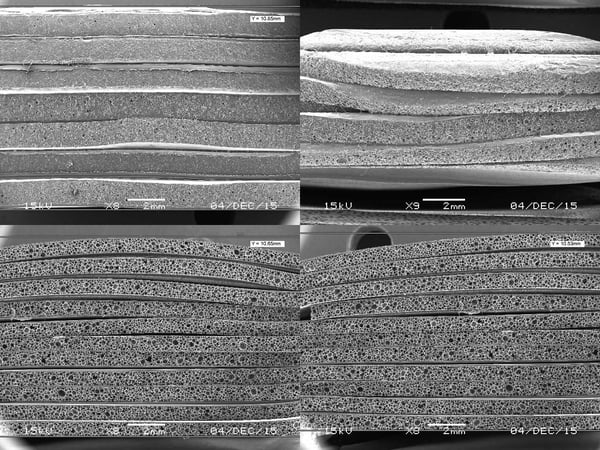 ---
CONTACT US for a sample, quote, or for more information on these materials.