We are continuing with our blog series: Foams for Low Clamping Force Seals. This week we will review the features and benefits of Microcellular Urethane Foam. Along with the many benefits this foam offers for low clamping force seals, it die-cuts cleanly and adheres to a broad range of pressure sensitive adhesives.
What is Microcellular Polyurethane Foam?
Microcellular foams are manufactured to contain billions of tiny gas bubbles that are less than 50 microns in size, giving them the name "microcellular". The tiny gas bubbles form in a uniform design, giving the foam materials excellent physical properties.
Features and Benefits of Microcellular Polyurethane Foam
Excellent compression set resistance, which enables durable and long-term performance for gasketing and sealing
Low outgassing and non-fogging features. Good resistance to many chemicals. Material does not become brittle and is non-corrosive to metal.
Performs well over broad temperature ranges (-40°C to 90°C)
Flame retardant without the use of additives. Many materials meet flammability requirements of UL HFB and MVSS 302. Roger's Corporation even offers a version of PORON® with V-0 Rating. (read about it here)
Die-cuts cleanly, adheres to a broad range of PSAs
Broad range of formulas and thicknesses
Thickness limitation of up to .500"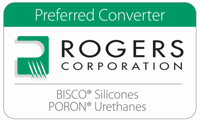 A large manufacturer of High Density Microcellular Urethane Foam is Roger's Corporation. Their line of PORON® foam materials offer a broad range of design solutions for gasketing, sealing, vibration and sound dampening, energy absorption and even foot wear! Marian is a Roger's Corporation Preferred Converter and one of the largest converters of PORON® foam in the world.
Contact us for a sample, prototype or a quote.