When designing a medical device, the device is the focus. It must be safe and effective. It also must be packaged!
Packaging can sometimes be an afterthought, but it is very important. Packaging design can impact the medical product's success in the following ways:
Product appearance and how it compares to competitive products
Proper handling and ease of handling by the end-user
Storage efficiency
Sterilization and product integrity
Final packaging concepts should be considered early in the design process and should be included in the proof of concept, prototypes, product testing, and sterilization phases.
Turnkey Process, From Design to Packaged Product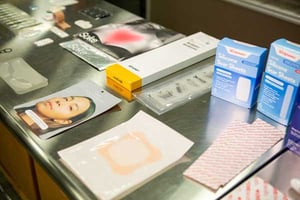 Marian is an industry-leading die-cutter. We convert thin flexible medical-grade materials into medical device components. For certain products, we can manufacture the entire device. We offer a turnkey process from prototype through clinical trials to the final packaged product. Here are a few examples (among many) of the packaged products we manufacture:
Hydrogel anti-aging hydrating pads
Advanced wound care skin closure device for surgical incisions
Silicone scar therapy products for retail
Stick-to-skin ostomy devices
We have developed strong relationships with high-quality packaging material suppliers. We can help you navigate this aspect of the medical product design journey. In this blog post, we describe different types of medical packaging available for your product.
Pouches
Barrier Pouches: foil and pre-formed pouches provide excellent moisture and gas barrier along with puncture resistance. They can be peelable, non-peelable, and zipper style.
Cold and heat-seal pouches: This type of pouching includes a medical pouch and a medical-grade sealer. The medical pouch materials can include Tyvek®, coated foil, film, and coated paper.
---
Thermoform Packaging
Thermoforming is a process that uses heat, vacuum, and pressure to form plastic sheets into three-dimensional shapes customized by a mold. This type of packaging is more rigid and durable, offering protection and cleanliness from the point of assembly, through distribution, and safely into the hands of the end-user.

---
Blister and Clamshell Packaging
A blister pack contains a cavity, or a pocket made from a formable web, usually thermoformed plastic. This usually has a backing of paperboard, foil, or plastic film. A blister that folds onto itself is often called a clamshell. Blister packs and clamshells are useful for protecting products against external elements.
---
Automated Cartoning
Many of the products packaged in the types of packaging listed above require cartoning or boxing. For example, silicone scar therapy sheets are pouched and then are required to be supplied in 10 ct. to a box for retail shelves. Automated cartoning machines erect the boxes, allow for loading, and close the box. Printing of a lot number and date code can also be integrated into the process. Our automated cartoning machines can achieve 5 to 60 cartons per minute.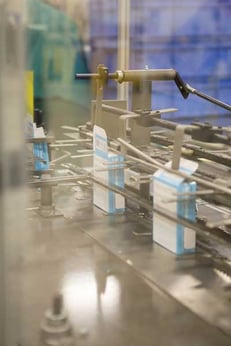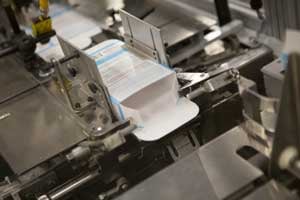 ---
Medical Product Kitting
Medical kitting is the process of packaging individual medical devices and ancillary components together into the same kit for the end-user. For example test kits, first-aid kits, medical supplies kits. Marian can perform this type of packaging in-house.
---
Special Note on Labeling and Printing
Marian can screen print in-house at our Marian production facility in El Paso, TX. We also work with highly reputable printers for liner printing, carton artwork, and IFU printing.
Marian Inc, Medical Die-cutting and Manufacturing
Ultimately, the right packaging method for your medical product will depend on several factors, including (but not limited to) the device size, the intended use, the materials and fragility of the device, the sterilization requirements, and more. Our medical experts can help you through this decision process.
As stated above, Marian offers a turnkey process from prototype through clinical trials, to the final packaged product. Engage with Marian early in your design phase. Please contact us to get started.
---
Visit us at MD&M West 2023 | February 7 - 9, 2023 | Anaheim, CA