Custom Die-cut Parts for Automated Assembly
Among numerous assembly options, automated assembly is often the method of choice for many of our customers. Automated placement is used for projects with very high volumes where precise placement is critical. Automated assembly can also significantly increase assembly speed and efficiency.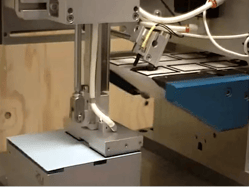 Marian designs and manufactures custom components to fit seamlessly into our customers' automated assembly process. We can modify many different aspects of the final part and packaging from liner type, part spacing and orientation, and quantity of parts per roll.
VIDEO: Placement of Foam Washers onto Automotive Components
Check out the video below, which shows the AccuPlace APAC Industrial Robotic System placing foam washers, die-cut by Marian, around plastic-molded fasteners. For this application, Marian provided foam washers kiss-cut on a roll designed to fit and function seamlessly with the APAC system. For additional information about the solution, continue reading below the video.





About this Automated Assembly Project
Foam washers are used throughout the automotive industry for noise reduction, moisture sealing, and vibration damping. The solution described below, as depicted in the video, represents one of the numerous examples solved by Marian and AccuPlace technology.

THE TASK
Molded plastic attachment clips required the addition of a foam washers for cushioning, vibration damping, and noise reduction. The plastic clip is designed with a snap-lock protrusion over which washers are placed to ensure a snug and quiet fit in the automobile interior.

THE CHALLENGES

The foam washer must be completely seated over the snap lock and flush on the flange of the plastic clip.
No center slugs from the foam washer can be present. (Loose slugs can contaminate the process or other components.)
Assembly by hand is unacceptably slow and too often incomplete or inaccurate.
For the sake of speed, engineers determine that 4 foam pads must be placed at once.
THE SOLUTION
Marian's converting capabilities to die-cut thick foam with precision dimensional tolerances and precision part location enable parts to be prepared for automated peel and placement.
AccuPlace APAC Industrial Robotic System; Robot Mode RM3065
Vision systems: Marian utilizes light and vision systems during the manufacturing of the washers to inspect part size and ensure center slugs are 100% removed. The AccuPlace robotic system uses vision systems to ensure that 100% of parts have a properly seated washer.
Bowl Feeder (for the presentation of the molded plastic clips.)
FEATURES & BENEFITS
Marian provides foam washers kiss-cut to a liner, rolled around a core to fit and function seamlessly with the APAC system.
Marian uses advanced inspection techniques during the manufacturing process to ensure no parts are missing and that very tight dimensional tolerances are met with each part.
AccuPlace's peeling technology allows for consistent peeling of the components and for bubble free placement.
The bowl feeder allows for fully-automated operation and a 1 second cycle time. The only other operator responsibility is changing rolls of foam washers and pouring bulk grommets into the bowl.
The custom chuck and nest allows for four up placement, then a second actuation ensure complete clearance of the snap lock feature.
The optional vision system ensures that only good assembled parts are processed any further.
---
Marian & Accuplace Partnership
Marian is the leading Value Added Reseller for AccuPlace Automation Machines, selling over 100 machines in 10 years and, more importantly, supplying the components dispensed by those – and many other - machines.
In addition to manufacturing precision component parts, Marian extends that solution with your automated, precision placement of that part through our partnership with AccuPlace. In the design of electronics across many markets, component parts continue to shrink in size. Designing a small complex part is one thing, but considering how to place them into a complex assembly becomes an even larger challenge. Our partnership with AccuPlace is a natural fit, offering our customers a complete solution.
Would you like to talk to someone about your needs for automated assembly of die-cut components?
---
Related Resource