BISCO® HT-800 Silicone Screen Gasket for Navigation / Infotainment Module
We have published a new customer success story! In this story, the customer required a static seal for a navigation module that would be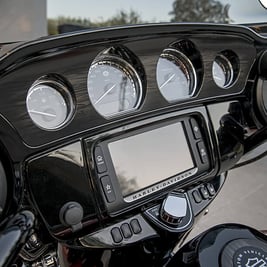 contained and used on the exterior of a recreational vehicle. The exterior navigation/infotainment module would be exposed to outdoor elements including extreme temperature swings, rain, wind, and dust. The gasket was required to reliably perform for the life expectancy of the class A RV. This could be more than 10 years! The customer came to Marian for a solution.
Marian worked with the customer's design team to provide a superior gasket solution made with Rogers BISCO® HT-800 Closed Cell Silicone Foam. Marian has been a Preferred Converter with the material supplier, Rogers Corporation, for more than 40 years. Together, Marian and Rogers recommended BISCO® HT-800 Silicone Foam, understanding that the material could withstand extreme temperatures and provide a reliable long-term seal.
The other challenge is that the dimensions of the die-cut part included very thin material walls. This required a very intricate cutting technique. Fortunately, this is where Marian thrives! Marian developed an automated rotary die-cutting process that produced these intricate parts quickly and efficiently with very tight tolerance.
Marian was able to provide die-cut gaskets that fit seamlessly into our customer's assembly process. Ultimately, Marian's customer has confidence that their customer and the users of this infotainment device will remain happy with their product during many years of use.
---
Download our free guide about selecting foam materials for static gaskets and seals.