Materials for Battery Solutions - PORON
®

EVExtend

Our valued material supplier, Rogers Corporation, has released PORON® EVExtend polyurethane foam material. This material is ideal for battery pads for EV/HEV li-ion pouch cell batteries. The EXExtend 4701-43HBF offers an increased flammability rating of HBF, or HF1 (product dependent).
Die-Cut Battery Pads
Battery pads are used inside an EV pouch cell battery pack. Whether the battery leverages a single pouch cell or several cells in a series, it is important to maintain a constant stack-up pressure on all cells even when they are in an expanded state.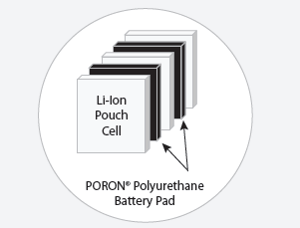 How is constant force maintained on a system that is in constant motion? The answer lies in the use of battery pads.
Battery pads are typically soft, compressible materials that address changes in compression without becoming overly firm or soft during expansion or contraction, thereby maintaining a constant pressure on each pouch cell. This pressure can also be referred to as push-back force (or stack-up pressure), which optimizes battery life and performance.
Continuous contraction and expansion cycles can cause significant changes in a material's push-back force. Foam pads are inserted between pouches and cells to maintain this push-back force. The pad must be firm enough to hold components in place, while compressible enough to withstand dimensional changes of the pouch cells over the life of the battery.
Advantages of PORON® EVExtend for Battery Pad Applications
Compression set - A tight specification of 5% on compression set and additional long-term testing PORON® EVExtend proves to be highly resistant material that maintains its original thickness and properties throughout the life of the battery.
Flat CFD curves - PORON® EVExtend is engineered to have a flatter compression force deflection (CFD) curve, with performance that is firmer on the front end and softer on the back end. Because of this, PORON® EVExtend can maintain a constant pushback force, allowing designers to meet both beginning and end of life limits despite pouch expansion.
Long-term performance and reliability - Like all PORON® polyurethane materials, PORON® EVExtend provides exceptional and unrivaled long-term performance.
To learn more about PORON® EVExtend click the links below:
Why Marian for your Die-Cut Battery Pads and other Die-Cut Foam EV/HEV Solutions?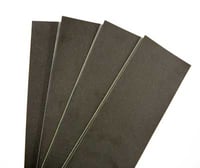 Marian is proud to be a long-time Rogers Corporation Preferred Converter. As one of the world's largest converters of PORON® urethane foams, Marian's capabilities include die-cutting, laminating, water jet cutting, slitting, and rapid prototyping. With Marian's innovative manufacturing techniques, PORON® urethanes can be die-cut into dynamic parts with intricate designs. Additional value can be added with extended liners, pull-tabs, and more, all while consistently maintaining tight dimensional tolerances.
Check out the other solutions we offer to the EV Battery Market.
Other Related Resources
Video: This test compares the Compression Set Resistance of 4 different foams