The use of pressure sensitive adhesives is growing rapidly in the industrial manufacturing market. The advantages of using adhesive tapes are clear: they are lightweight, clean, and safe. Marian has the converting capabilities to produce die cut tapes, which are cut to specific dimensions. Tapes are often combined with, or laminated to other materials such as foam or film to create a more dynamic die cut part.
Choosing a PSA can be complicated. Tapes have different constructions, each offering different functionality and features to fit your application. Below we briefly explain three common tape constructions, double-coated, single coated, and transfer tape. You can find material data sheets for PSA's in these three categories on our Material Data Sheets Page.
DOUBLE COATED

PSA is coated on both sides of a carrier layer. Double coated tapes are used in order to bond two substrates. The carrier layer can be many different materials giving the tape different properties. To learn about tape carrier layers, check out this blog post: PSA Talk: What to Know About Carriers. This construction provides the capability to put the same or different PSA on each side of the carrier. Coating weight on each side of the carrier can also be varied.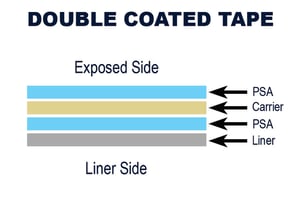 SINGLE COATED
PSA is coated on one side of a flexible carrier and affixed to a suitable release liner. A single coated tape is used to be bonded to one substrate, ie: masking tape for paint masking, surface protection tape, electrical insulating tape.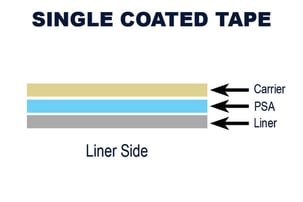 TRANSFER TAPE
In a transfer tape, there is no carrier. There is nothing to hold the adhesive together except for its own internal strength. Transfer tapes are used for applications where you need flexibility and stretch and for bonding to irregular surfaces.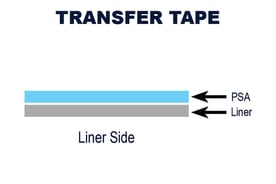 Need help choosing a Pressure Sensitive Adhesive for your application? We can help! Download our free guides below, and CONTACT US to discuss your project with one of our Material Experts.