Hydrophobic microporus vents are a cost-effective way to protect your LED product by keeping dust and liquids out of the enclosure and relieving positive pressure or negative pressure in the enclosure.
COMMON LIGHTING APPLICATIONS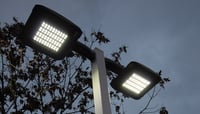 Street Lighting
Outdoor Architectural Luminaires
Automotive Taillights, Headlights
POSSIBLE OUTCOMES FROM A POORLY VENTED LIGHT
Product Failures - Caused by temperature changes (caused by operation cycles and outside environment), resulting in intrusion or condensation of moisture
Lens Fogging resulting in poor light output - Caused by water that has entered the luminaire
Compromised seals or joints around the enclosure - Caused by positive and negative pressure build-up
Protect your Light with POREX PTFE VENTS:
Key Benefits of the Material:
IP-Rated (up to IP 68), see our blog post about IP Ratings. UL 94-V-0, 5VA approvals; hydrophobic, oleophobic, UV and weather resistant; Thermally resistant (500ºF continuous use); High tensile strength.
DOWNLOAD our Venting Materials Brochure
View this video for a demonstration of the material.
Contact us for a material sample, inquiry or a quote!