PTFE membrane vents are made of hydrophobic microporous materials. This amazing PTFE material is designed to allow air to pass through while acting as a firm barrier to water and dust.
Outdoor LED Lighting enclosures contain electronics assemblies that must be protected from the elements (rain, dirt, debris). As LED lights operate, they generate heat. As the enclosure heats up and cools down through the cycle of operation, the internal pressure changes. Without the ability to relieve this pressure, the enclosure can sustain damage and condensation can form. Both situations can be detrimental to the successful operation of the LED lighting system.
PTFE membrane vents are a cost-effective way to protect your LED product. They keep dust and liquids out of the enclosure and relieve positive pressure or negative pressure within the enclosure.
COMMON LIGHTING APPLICATIONS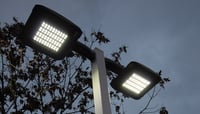 Street Lighting
Outdoor Architectural Luminaires
Automotive Taillights, Headlights
POSSIBLE OUTCOMES FROM A POORLY VENTED LIGHT
Product Failures - Caused by temperature changes (caused by operation cycles and outside environment), resulting in intrusion or condensation of moisture
Lens Fogging resulting in poor light output - Caused by water that has entered the luminaire
Compromised seals or joints around the enclosure - Caused by positive and negative pressure build-up
Protect your Light with PTFE VENTS:
Marian can manufacture zone laminated die-cut venting discs, packaged on a roll for ease of application. Our engineering and materials experts are prepared to help with your design to meet all of your specifications. Read more on our webpage: Die-cut Filters, Mesh, and Vents
Additional Resources
Need a vent for an IP-Rated enclosure? We can help! See our blog post about IP Ratings. PTFE Venting materials are also UL 94-V-0, 5VA approved; hydrophobic, oleophobic, UV and weather-resistant; Thermally resistant (500ºF continuous use); High tensile strength.
DOWNLOAD our Venting Materials Brochure
View this video for a demonstration of the material.
Contact us for a material sample, inquiry, or a quote!