PVC (Vinyl) Foam is the last foam variety that we will explore in our blog series "Foams for Low Clamping Force Seals". Polyvinyl Chloride (PVC) Foam is a lightweight closed-cell foam material. It is often used for sealing out water, dirt, and air. It resists weathering and is often laminated with adhesive to create a dynamic foam tape.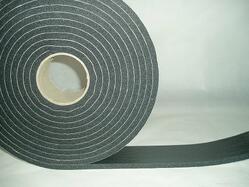 Features of PVC (Vinyl) Foam
Closed-cell structure seals out air, moisture, light, and dust when compressed at least 30%
UV resistant and resists most chemicals, acids, and solvents
Service temperature range of -40°F to 200°F
Inherently fire resistant


What are the Benefits of PVC (Vinyl) Foam?
Excellent performance across a full range of temperatures
A versatile material that can be used across a wide range of industrial applications
Cushions against shock and vibration
Effectively seals out light, air, moisture, and dust
Common Gasket Applications for PVC Vinyl Foam
As stated above, when compressed at 30% this material acts as a highly effective sealing gasket across many applications and industries. Marian has the capabilities to die-cut vinyl foam into custom gaskets for virtually any shape or size. In addition, Marian can laminate PSA to a PVC Vinyl foam to create a single or double-sided tape.


Transportation / Automotive
Appliances
HVAC
Marine
Vibration Damping, Cushioning
Bonding, joining, general mounting
This wraps up our blog series on Foams for Low Clamping Force Seals. If you haven't already, take some time to read about the other amazing foam materials. Foams for Low Clamping Force Seals
The categories of foam that we have written about in this blog series barely scratch the surface of the differences between the many foam options for low clamping force seals. For more guidance in determining a sponge or foam for your application, please contact Marian.