Heat Spreaders
As summer comes to an end, we bring you our final post in our Hot Summer Blog Series exploring Thermal Interface Materials. In this post we briefly look at heat spreaders. A heat spreader is a heat exchanger that moves heat between a heat source and a secondary heat exchanger whose surface area and geometry are more favorable than the source. Heat spreaders conduct heat in the x,y and z axes which spreads the heat to a larger surface area.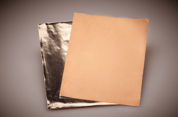 Their ultra-thin profiles are ideal for today's small electronics designs that lack space required for other conventional heat transfer materials. High adhesive conductive PSA coats the heat spreader, providing a strong bond to the heat source optimizing the heat transfer.
Marian has the capabilities to provide custom shapes suitable for complex designs.
Interested in learning more about Thermal Interface Materials? DOWNLOAD our free guide: