Heat Spreaders
As summer comes to an end, we bring you our final post in our Hot Summer Blog Series exploring Thermal Interface Materials. In this post, we briefly look at heat spreaders. A heat spreader is a heat exchanger that moves heat between a heat source and a secondary heat exchanger whose surface area and geometry are more favorable than the source. Heat spreaders conduct heat in the x,y, and z axes which spreads the heat to a larger surface area for efficient and effective heat dissipation. This heat dissipation keeps devices running at a safe operating temperature.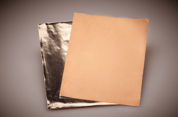 Heat spreading materials' ultra-thin profiles (~0.05mm - 0.15mm) are ideal for today's small electronics designs that lack the space required for other conventional heat transfer materials and mechanisms. Highly conductive adhesive PSA coats the heat spreader, providing a strong bond to the heat source optimizing the heat transfer.
Heat spreaders are thin flexible materials, like copper and aluminum foils. They can also be made with graphite materials. These materials transfer heat quickly and efficiently. Some of our material suppliers include Polymer Science, Parker Chomerics, Saint Gobain, and 3M.
Marian Converting Solutions
Marian has the manufacturing capabilities to provide custom shapes suitable for complex designs. We can laminate heat spreader materials with thermally conductive adhesive to create a thin self-adhesive tape that can be securely placed into the application. Parts can be supplied on a roll or presented in any way that suits application - including hand placement and automated placement. Contact us for a material sample or for a prototype.
Free E-Book!
Interested in learning more about Thermal Interface Materials? DOWNLOAD our free guide: How to Select the Right Thermal Interface Material