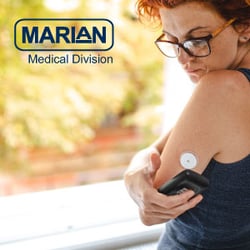 When designing a wearable device that will be attached to the human body, selecting the most appropriate stick-to-skin adhesive is a very important part of the design process, and Marian can help. If you take two things away from this article, they should be the following:
1. Think about material selection early in the wearable device design process.
2. Involve your material converter early in the wearable device design process.
Material converters, like Marian, can be an invaluable resource as you begin to make decisions about your design, including choosing the stick-to-skin adhesive materials.
The selection of the skin-contact adhesive tape is challenging and needs careful consideration. Below we have listed 8 factors to consider as you select the stick-to-skin adhesive for your wearable device.

1. Selecting the Right Stick-to-skin Adhesive Material Manufacturer
When choosing an adhesive material manufacturer, you should aim to ensure medical-grade quality, biocompatibility, and supply chain traceability. Materials should be manufactured under procedures that adhere to ISO 13485 quality management system guidelines, as well as the FDA guidelines for cGMP. Manufacturing should be done on dedicated validated equipment and audited for compliance to produce tape that has been tested per ISO:10993 for biocompatibility and is shown to be safe for use on the skin. Material manufacturers should be able to provide all of this documentation and certification as you are conducting your research (View our certifications here!).
Marian has close working relationships with many medical adhesive suppliers. Leveraging these relationships can streamline material sampling, testing, and evaluation. Additionally, we can create prototypes for testing and even help with product design and engineering as you work through the initial phases of development.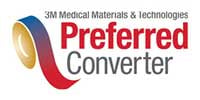 The manufacturers of medical-grade adhesives that we work closely with include, but are not limited to: 3M, Polymer Science, Avery Dennison, Adhesive Research, and DermaMed Solutions.
---
2. Government Requirements and Restrictions
It is important to be aware of all of the requirements and restrictions required based on the market or country you intend to sell your device. For example, are the materials compatible with REACH, RoHS? Will this be a U.S. FDA registered device?
---
3. Adhesive Strength and Function
What will the required strength of the tape be based on the function of the device? How much does the device weigh? Is the tape intended to bond to the skin for a long period of time? In answering these questions, you can begin to look at material properties such as wear time, peel strength, shear strength, and initial tack. Material manufacturers conduct testing and provide this type of information on material data sheets, as shown in the 3M 2477P data sheet below.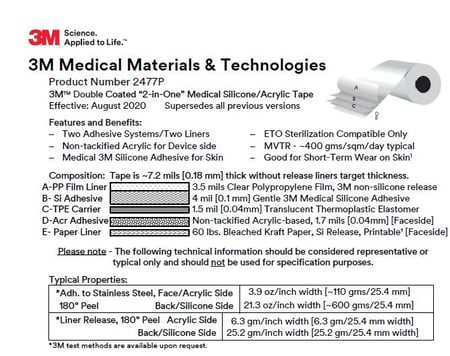 ---
4. Skin Adhesion
Adhering to the skin can be very tricky. There are many factors that come into play and will depend on the intended use of the device.
What demographics will be wearing this device? Skin differs widely across demographics, from infants to elderly.
Will the device be worn when the wearer is exercising and perspiring?
Where on the body will the device be worn?
Check out this paper by 3M Medical Materials and Technologies that explores this topic further: Stick to Skin: A New Way for Medical Wearables
---
5. Avoiding Skin Injury
There is a fine balance between adhesive performance (wear time) and potential for injury, especially with acrylic adhesives in which adhesion increases over time. Designers must carefully select materials that pose the least risk of injury or irritation while also performing to the specifications of the device.
To explore this topic further, we recommend that you download this whitepaper by 3M: Evaluation on How Tape Construction Effects Wear Time: 15-day Study
---
6. Compatibility with Construction-layer Materials
In addition to testing a material's compatibility with the skin, it is also important to ensure successful bonding to and cohesion with the other materials within the device. For example, if the skin-contact layer adhesive material is breathable, the construction-layer material must also be breathable. Additionally, certain polymers from one layer can interact with adhesives in another layer after they are assembled together, potentially causing failure.
---
7. Sterilization
Based on the intended use, the device may require sterilization. Some material properties may be impacted by certain methods of sterilization (some common methods are ethylene oxide and gamma radiation). Packaging can also come into play, which can mitigate these sterilization effects.
---
8. Material Cost and Availability
While material cost is a factor, material performance should be a top priority. There is certainly a fine balance between cost, quality, and material performance. It is also important to ensure that the chosen material can be available where your product will be manufactured and in quantities that will fit the projected requirements for prototypes, trials, early, and ultimate production quantities.
We understand that designing a wearable device can be a cumbersome process. Material selection is one of many decisions. The list above should NOT be considered an exhaustive group of considerations, but it should give you a good start. Like we stated at the beginning, bring your material manufacturer and material converter into the conversation early in the design of your wearable device. We can help you navigate the many decisions and factors.
Along with skin attachment adhesives, Marian offers a variety of wearable medical device components. View this video for a quick summary.
---
Interested in learning more? Set Up a Meeting with our Medical Products Manager
Our Medical Products Manager, Kevin Pickett, is highly specialized in medical device projects. Please use the link below to contact Kevin and set up a meeting to discuss your wearable device project.