Light Density Polyester and Polyether Urethane Sponges and Foams have an open cell structure. The evenly spaced structure of these materials and a high proportion of open cells make them suitable for an infinite number of applications. The open-cell structure makes it highly flexible and conformable compared to its closed-cell counterpart.
Check out a related blog post: Open-Cell or Closed-Cell Foam, Which is Best?
Features and Benefits of Light Density Polyester or Polyether Urethane Sponge or Foam
Wide range of flexibility and rigidity.
Often used for insulation.
Thermoplastic polyurethane is commonly used in medical devices.
Flexible polyurethane can also be used in automotive interiors.
Flame retardant additives can be used to obtain flame-resistant properties.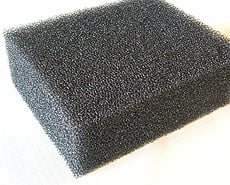 So What's the difference between Polyester or Polyether Urethane Foams?
Both types of urethane foams are strong, tough, and durable with excellent physical properties. They can be formulated to work equally well in some applications but there are applications where, after considering all the physical and environmental aspects of the application, one will be a better choice than the other.
The lists below are generally true of these types of urethane foams:
Polyether urethanes:
Better water resistance
Better low-temperature flexibility
Better dynamic properties
Polyester Urethanes:
Better abrasion resistance
Better oil, grease, and fuel resistance
Better tensile strength
Better tear resistance
*When beginning your foam selection process, it is important to reference the information on the Technical Data Sheet to ensure that the appropriate foam type is being used to meet your application's property requirements.
Marian die-cuts polyester and polyether urethanes, creating dynamic component parts including sealing gaskets, cushions/shock absorption, vibration damping, and isolation parts. Looking for a sample of these materials? Marian can help you narrow down your options, provide samples and prototypes.