Marian Europe opened its doors in 2014. Satisfying our customers is one of the three pillars of our quality policy, and one of the reasons we decided to open this location. This location will allow us to operate closely to key customers, providing top-of-the-line service and delivery.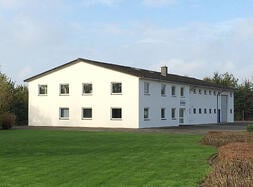 Here are 5 Things You Need to Know About Marian Europe
Marian Europe GmbH is located in Bassum, Germany, 20 kilometers south of Bremen. This location was strategically chosen due to the proximity to many companies we serve in this area.

The head of Marian Europe is Torben Horstmann. Torben has a wealth of experience in the European die-cutting and converting industry.

Marian Europe is the 10th Marian facility to open globally. It is the first Marian facility in Europe.

Marian Europe will offer similar manufacturing capabilities as all of our other Marian locations, including rapid prototypes, flatbed die cutting, precision slitting, and laser cutting.

Marian Europe is open for business. Manufacturing operations began in January 2015.
Long-term Strategy and Growth
As stated in this article Marian Will Remain a Privately Owned Company: Top executives and board members of publicly held companies are often focused on boosting share value and quick returns for shareholders.
In contrast, Marian has continued to focus on and invest in long-term strategies. Marian leaders have structured the company financially so that it has the ability to take on long-term risks. As a privately held company, Marian has also continued to reinvest in the business. The motivations for this are two-fold: In growing the business, both in locations and technologies, Marian will continue to provide the highest-quality parts and excellent service to customers. This has given Marian an excellent reputation in the industry.
Marian Europe has grown quickly and has proven to be an excellent addition to the Marian Family of Companies.
Are you a company located in the European Region, in need of die-cut components?
Contact Marian Europe
for your converted component needs.