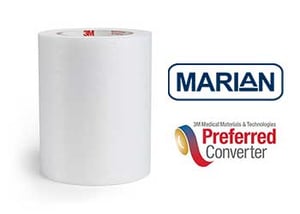 One of our top material suppliers, 3M, recently announced the release of their next generation of medical silicone adhesives, 3M Hi-Tack Silicone Adhesive Tapes. 3M 2480 is the first product to launch in this new portfolio. It is a single coated medical nonwoven tape with hi-tack silicone adhesive on a liner. The benefits of this exciting new material include:
Longer wear-times (up to 4 days)
Supports heavier devices
Offers more secure adhesion
Repositionable
Read the full press release from 3M here.
As a 3M Medical Materials & Technologies Preferred Converter, Marian is excited to be able to offer this new material for wearable device designs. As discussed in our previous blog post, "Wearable Device Design – Selecting a Stick-to-Skin Adhesive" [Read Full Post Here] selecting the most appropriate stick-to-skin material is a very important part of the design process.
Choosing between acrylic and silicone skin-contact adhesives forces the designer to weigh many factors. Traditionally, wear-time for acrylic adhesives is longer, however, they are more likely to cause trauma to the patient's skin upon removal. Silicone adhesives are typically more gentle and easier to remove from the skin, however wear-time duration is shorter.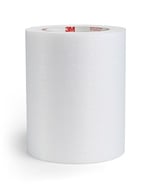 With the addition of 3M 2480 to 3M's broader silicone adhesive portfolio, 3M is bridging the gap in terms of wear-time. In the words from the press release, "The 2480 3M Hi-Tack Silicone Adhesive is the first of its kind to offer the repositionable, gentle properties of silicone and achieve up to a four-day wear time, supporting heavier, more complex devices."
Download the 3M 2480 Material Data Sheet
Marian and 3M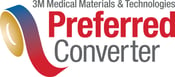 Marian is proud to be a 3M Medical Materials & Technologies Preferred Converter. 3M and Marian work together in a mutual partnership. We depend on 3M for innovation in material sciences, while they rely on us for our excellence in material converting. We work together to bring top-of-the-line solutions to our customers.
Read more about the 3M Medical Materials & Technologies Preferred Converter Program here.
Marian offers high volume, high speed precision converting of medical grade materials for a range of medical device designs including wearable devices, advanced wound care, health and beauty products, and more. Our manufacturing facility is FDA Registered, ISO 13485, and ISO 9001 certified. Our materials converting capabilities include clean room rotary die cutting, ultra-precision slitting, multi-layer lamination, island placement, product assembly, kitting and automated packaging.
View a video showcasing our Medical Manufacturing Capabilities here.
Contact Us For a Sample of 3M 2480 Hi-Tack Silicone Adhesive Tape
Are you interested in this new 3M Material for your device design? Contact us today. One of our Sales Engineers will be happy to talk to you and to bring in our partners at 3M to answer all of your questions. We can offer material samples and prototypes of your design.
3M is a trademark of 3M.