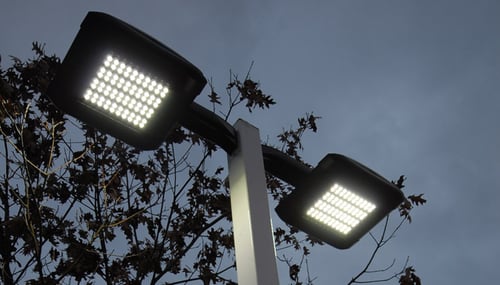 Outdoor LED lights are subject to a wide range of environmental elements and must be designed to withstand these hazards for the long life of the LEDs. There are many components that are included in an outdoor lighting assembly, and one of the most important elements is a gasket. When choosing a material for an outdoor lighting gasket, it is very important to understand the mechanics of an outdoor lighting fixture.
Outdoor lighting gaskets are made to protect the delicate interior lighting components against rain, moisture, UV exposure (aging), oxidation, ozone, dust, and weather (ice, rain, snow). It is also important that they have excellent compression set characteristics. The gasket must be made to last the entire life span of the lighting component which could be anywhere from 5-10 years. Another important factor is the Ingress Protection rating of the gasket material, which is typically IP66 for outdoor lighting enclosures. See our blog post about IP Ratings.
Among the numerous materials one could choose for an outdoor lighting gasket application, there are three materials that stand out from the rest: silicone rubber, silicone sponge, and silicone foam. These three advanced materials can withstand outdoor challenges resulting from weather and aging. Material properties remain unaffected when exposed to extreme high and low temperatures. Silicones are also resistant to hardening and aging from ozone, oxidation, UV, and sunlight. Furthermore, in seeking a flame retardant material for your outdoor lighting application, silicone materials generally carry a UL 94 V-0 flame rating.
Marian sources silicone foam, sponge and rubber products from some of the world's leading suppliers: Rogers Corporation and Saint-Gobain. Marian can readily custom fabricate gaskets with adhesive lamination utilizing rotary die-cutting, water jet cutting and plotter cutting.
A laminated adhesive may be required for bonding the outdoor lighting gasket to the housing. When selecting an adhesive, it requires you to have an understanding about the housing surfaces that will be bonded. Different surfaces require different adhesive systems. For example, if you were to bond the gasket to an unpainted aluminum enclosure, you would need to look for a high surface energy pressure sensitive adhesive. If there is a powder coated finish added to your enclosure, you would need a low surface energy pressure sensitive adhesive. See our blog post about Surface Energy.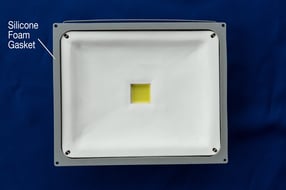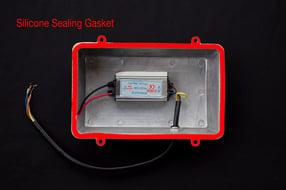 CONTACT US for a sample, quote, or for more information on these materials.