You may be familiar with Peroxide Cure Silicones, the conventional method to cure silicone, which contains a catalyst bi-product that has a smell and contains industrial chemicals. The mechanism of a peroxide cure is a free radical cure which results in a number of different by-products. A post cure is necessary to drive them off. While Peroxide Cure Silicones are great solutions for industrial and environmental applications, health care products often require an ultra-clean material.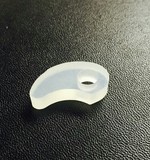 Platinum Cured Silicone
Focusing on a more sterile silicone, Platinum Cure Silicone is noted for its cleanliness and high purity. Unlike Peroxide Cure Silicones, there are no cure by-products in the Platinum Cured Silicones. These silicones are well suited for healthcare and medical devices.
Key Material Characteristics:
Can be made custom thickness from .005 inches to .250 inches
Can be made on a roll in low quantity down to 25 l/f for smaller runs
Can be made in a MOQ of 1 molded sheet for prototypes
USP Class 6
FDA Compliant
Ultra Clean
Key Material Applications:
Medical device gaskets
Membrane applications
High purity applications
To learn more about Platinum Cure Class IV FDA Silicone, please download this data sheet or visit http://www.sspinc.com/.
Contact Us for a Material Sample.