Platinum cure silicone materials can be an excellent material choice for your application. You may be familiar with peroxide cure silicones, the conventional method to cure silicone, which contains a catalyst bi-product that has a smell and contains industrial chemicals. The mechanism of a peroxide cure is a free radical cure that results in a number of different by-products. A post-cure is necessary to drive them off. While peroxide cure silicones are great solutions for industrial and environmental applications, health care products often require an ultra-clean material. This is where platinum cure silicone materials come in.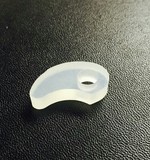 Platinum Cure Silicone
Focusing on a more sterile silicone, platinum cure silicone is noted for its cleanliness and high purity. Unlike peroxide cure silicones, there are no cure by-products in the platinum cured silicones. Additionally, they show stronger physical properties and lower shrinkage values. Platinum cure silicones are cost-effective and combine high purity with FDA, USP Class VI, and RoHS compliance. These silicones are well suited for healthcare applications and medical devices.
Key Material Characteristics of platinum cured silicones:
Can be made custom thickness from .005 inches to .250 inches
Can be made on a roll in low quantity down to 25 l/f for smaller runs
Can be made in a MOQ of 1 molded sheet for prototypes
USP Class 6
FDA Compliant
Ultra-clean
RoHS compliant
Colors available: red, black, gray, and white
Common Applications:
Medical device gaskets
Membrane applications
High purity applications
To learn more about Platinum Cure Class IV FDA Silicone, please download this datasheet or visit http://www.sspinc.com/.
Marian Converting Capabilities
Marian has the converting capabilities to manufacture precision gaskets and mebranes with platinum-cured silicones. We can also manufacture parts in Class 7 Cleanrooms and FDA-registered facilities to meet stringent medical specifications.
---
Contact Us for a material sample.