Sealing out moisture can be one of the most important design features of a product. Water ingress, even just a drop, can cause substantial and irreparable damage to electronics, sensors, and other sensitive components.
This is why we are excited to tell you about a new high-performance foam material from Rogers Corporation. The newest addition to the Rogers line of foam products, the AquaPRO™ family provides enhanced water sealing solutions

. Material densities range from "soft" (41) to "very soft" (37). This new Poron formulation is available in a range of thicknesses.
The AquaPRO™ family provides enhanced protection from water ingress due to its water sealing capability and long-term performance. The new formulation requires the lowest compression force of any PORON® water sealing formulation in achieving a tight seal.
Features and Benefits
Thicknesses available: 0.15 mm - 12.7 mm
Durable, long-term performance
Resistance to stress relaxation & compression set
Broad temperature range - thermally stable from 40° C to 90° C for constant use, and up to 120° C for intermittent use.
Chemical resistance, including a wide range of common automotive fluids
Flame retardant - UL94 HBF & FMVSS 302 rated
Low outgassing
Backed by Rogers Corporation
With Marian's extensive die-cutting and laminating capabilities, we can provide custom gaskets or seals for your application. Don't let a small drop of water ruin your product design...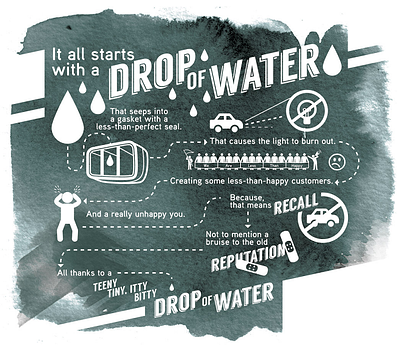 Rogers Corporation Preferred Converter
Marian is very proud to be a Preferred Converter for Rogers Corporation. Our organizations have developed a long and valued relationship working together since the 1970s to serve customers all over the world. With this status, Marian has access to all Rogers Materials, and also receives specialized training when new products are released, like the Poron AquaPRO™ Family. This material is one of many excellent foam materials in the Rogers material portfolio that can enhance your product design. We are eager to discuss this one and more of them with you.
Contact us for a material sample, a quote, or additional information.
Downloads