As explained in the previous blog post - IP Ratings Explained - an Ingress Protection (IP) Rating is a common international test method (IEC 60529) to rate enclosure protection from objects and liquids. IP67 refers to the most extreme IP rating certifying that the enclosure will protect against the entry of:
dust (6)
the effects of immersion in water to depth between 15cm and 1meter for 30 minutes (7).
In other words, IP67 means that the unit or enclosure can be dropped into a body of water up to a meter deep for half an hour without allowing the ingress of water or dust!
For more information about IP Ratings, and to download an IP Ratings Chart, visit our webpage: IP Rating and NEMA Rating Charts
Devices that require IP67 protection:
Electronic Components

Computer Equipment

Telecommunications

Consumer Appliances

Commercial Electronics

Lighting

Energy Generation and Storage
These applications require vented enclosures, which are designed to keep moisture and dust out while allowing air to flow in and out of the device. This air passage is critical as temperatures within the enclosure change. Pressure can build, which can cause the seal to fail, resulting in device failure.
Video Demonstration: Porex IP67 Rated PTFE Protection Vent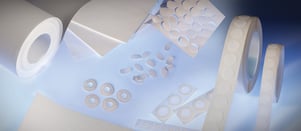 POREX® PTFE membrane material is ideal for such applications. Vents made with POREX PTFE are hydrophobic and oleophobic, pressure compensating elements to protect electronic enclosures and housings from pressure build-up and water intrusions. It is also IP67-rated. Click here to read more about POREX PTFE Membrane.

Marian is proud to be one of only a few Preferred Converters for POREX. Marian offers the capabilities to manufacture custom die-cut venting discs with adhesive lamination, creating POREX PTFE vents for your IP67 enclosure.
Contact us to sample POREX PTFE Material and tell us about your application.