Double Coated Foam Tapes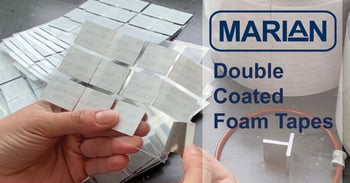 Double coated foam tapes are a type of adhesive tape that is made of tacky adhesive coated on both sides of a foam core or carrier. DC foam tapes fill gaps and distribute stress uniformly over the bonded area. Depending on the specific tape, the result is a bond line that seals, cushions, and damps vibration, resists impact, withstands a wide temperature range, and provides good insulating qualities. Double-coated foam tapes are strong and durable.
There are a variety of adhesive and foam carrier options, based on your requirements.
Double Coated Foam Tape Construction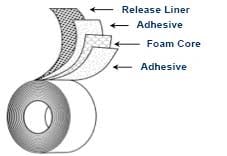 Adhesive Types: These are most often made with acrylic or rubber adhesive. Adhesives can also be differential, meaning there is a different adhesive type on each side of the carrier.
Foam Core / Carrier Types: Foam types can be open or closed-cell foams; polyethylene, polyurethane, acrylic foam, ethyl-vinyl acetate (EVA), rubber. Requirements that may impact your choice of foam core are temperature, durability, and conformability. To learn more about carriers, check out our Blog Post: PSA Talk: What to Know About Carriers
Release Liners: Liners are engineered to provide easy release from the adhesive. It protects the adhesive layer from environmental elements during shipment, storage, and assembly. Liner types include papers and films. DCFT can also be provided with dual release liners, meaning there is a release liner on each side.
Colors: There are a variety of colors available, the most common are Black, Gray, White, and Off-White.
Thickness: When choosing a PSA for your design, you want to consider the required thickness. Below are the thickness ranges we typically give our customers to choose from to determine the required thickness. Most DCFT will fall into the 2 thickest ranges, although there are some DCFT materials that are thinner.
0.025 mm – 0.10 mm
0.11 mm – 0.25 mm
0.26 mm – 0.38 mm
0.39 mm – 0.64 mm
0.65 mm – 0.79 mm
0.80 mm – 1.5 mm <-----
1.6 mm + <-------
---
Applications
Double Coated Foam Tapes are suitable for many mounting and bonding applications across many markets. They can be used for decorative material attachments, mounting of displays and signs, solar frames. They are used frequently in automotive applications such as emblem attachment, exterior trim attachment. They can be used for gasketing and sealing applications.
Replace Mechanical Fasteners: Some DC Foam Tapes are able to achieve such high bond strength that they can replace mechanical fasteners such as screws, rivets, and bolts. This can significantly reduce assembly time while improving the structural joint between the surfaces by distributing the stress loads.

Custom Converting
Double coated foam tapes can be precisely die-cut and pre-applied to the back of any component. The parts shown above are double coated foam tapes, die-cut to specific geometry with customized liners. Liners were cut to add pull-tabs and locating holes; both making handling and application faster and easier. Marian specializes in die-cutting intricate shapes at tight tolerances.
The parts in the images above are all intended for use in attaching emblems to automotive exteriors. To learn more about emblem attachment, check out our blog post: Emblem Attachment Solutions: The Perfect Bond
---
DCFT Material Suppliers
Marian converts thousands of thin flexible materials, manufactured by the best material suppliers in the industry. Marian maintains preferred converter status with most of the suppliers listed below, including 3M and Tesa. You can download datasheets for our most commonly converted double coated foam tapes here: Marian Material Datasheets

---
DCFT Material Spotlight: TESA ACXplus 7273 Multi-Purpose
Looking for a custom, high-performance bonding solution with low-cost in mind? Introducing tesa ACXplus 7273 Multi-Purpose Acrylic Foam Tape. This new product is cost-effective, resistant to moisture, withstands harsh weather conditions, and achieves a strong, permanent bond once fully cured. Request your FREE demo or material sample today! https://info.marianinc.com/tesa-mp
Adhesive: Acrylic
Foam Core: Foamed Acrylic
Liner: White Film Liner
Color: Gray
Thickness: 0.80 mm