Adding a gasket to seal a device, whether it is keeping out dust, air, water, or something else, seems like it would be an easy part of the design. However, there are many material options available for most gasket applications. Choosing the best material may require some research. This is why we are starting a blog series outlining the features and benefits associated with the various foams that fit into this large subset of gasket material options: Foams for Low Clamping Force Seals
We are starting this series with SILICONE FOAM.
Key Features and Benefits of Silicone Foam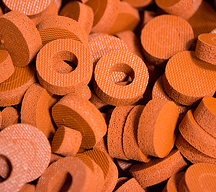 Silicone is a very high-performing elastomer that outlasts and out-preforms most other elastomeric choices on key performance scales. Key features and benefits of silicone foam are listed below.


Silicone foam maintains its flexibility across a very wide temperature range (-50ºC to 200ºC)
It has superior flame resistance; low flame, smoke, and toxicity upon combustion
Silicone resists environmental extremes like UV and ozone
It is resilient to mechanical fatigue
It offers excellent resistance to compression set and creep
Silicone Materials Converted by Marian
---
Free Ebook: Pros and Cons of Designing with Silicone Foam
While silicone rubber can be an excellent elastomer for many sealing and gasket applications, it is not suitable for every application. This ebook explores the pros and cons of designing with silicone rubber.
---
Marian converts many varieties of silicone foam at a range of thicknesses. Marian can also laminate foams with pressure-sensitive adhesive on one or both sides. Corona treating of silicone foam is also available for suitable applications. Read more about corona treating here: LINK
Contact us for a sample, prototype, or a quote. Click here to download data sheets for commonly converted materials.