Thermally Conductive Tapes
Thermally conductive adhesive tapes are usually transfer adhesives or double-coated tapes. (Interested in learning more about tape constructions? Click here.) Adhesive types include thermally conductive acrylic and silicone, which

are often coated to a support substrate like polyimide film, fiberglass and aluminum foil. The support substrate adds dimensional stability, which provides ease of handling and die cutting.
The conductive tapes create a path to dissipate heat away from a heat-generating component to a heat sink or other cooling device. The adhesive creates a better surface contact in the interface joint, reducing thermal resistance and further cooling the device. The high tack of the adhesive provides a strong bond between the two components, often displacing heavy mechanical attachment.
Thermally conductive tapes are typically chosen for their mechanical adhesive strength, reliable long-term performance, lightweight and thin profile. Most also have a UL94 V-0 flammability rating.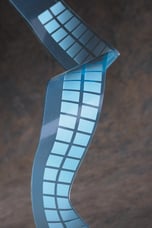 These tapes are often used in electronics assemblies and for LED lighting thermal management.
For a sample, quote or a prototype of thermally conductive adhesive tape, contact a Marian Engineer.