Thermally Conductive Tapes
Thermally conductive adhesive tape formats are typically transfer tapes or double-coated tapes. (Interested in learning more about tape constructions? Click here.) Adhesive types include thermally conductive acrylic and silicone, which

are often coated to a support substrate like polyimide film, fiberglass, or aluminum foil. The support substrate adds dimensional stability, which provides ease of handling and allows for clean and precise die cutting.
Thermally conductive tapes create a path to dissipate heat away from a heat-generating component to a heat sink, fan, or other cooling devices. The adhesive creates a better surface contact in the interface joint, reducing thermal resistance and further cooling the device. The high tack of the adhesive provides a strong bond between the two components, often displacing heavy mechanical attachment methods like rivets and screws.
Thermally conductive tapes are typically chosen for their high adhesive strength, reliable long-term performance. They are lightweight and have a thin profile. Most thermally conductive tapes also have a UL94 V-0 flammability rating, which can be a requirement for most electronics applications.
These tapes are often used for thermal management in electronics assemblies, LED lighting, and automotive electronics.
Key material suppliers include Polymer Science, 3M, and tesa.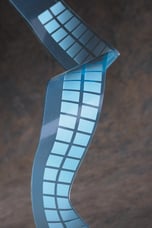 Custom Components from Marian
Marian can laminate thermally conductive tapes to a variety of other materials including foils, films, and foams to create a dynamic part. Marian can also die-cut materials into custom shapes and dimensions to fit the exact geometry of the application.
For a sample, quote, or a prototype of thermally conductive adhesive tape, contact a Marian Engineer.
---
Free eBook
Download our free eBook below, How to Select the Right Thermal Interface Material. This eBook simplifies the material selection process.